Find ideas for keywords with the Research Tool
Just put in a keyword and get suggestions
FREE KEYWORD-RESEARCH TOOL
Find relevant keywords for your content with this free, fast and easy-to-use tool
You already have an idea for a landing page or piece of content and know which keyword to optimize on, but you're still looking for related keywords? Use our free Keyword Research Tool to find relevant keywords for your content.
Here's how it works: enter your keyword in the first field, select a country and click on "Start research". You don't have to limit your search to a single word as you can also enter word groups or phrases (e.g. "best keyword research tool"). After a few seconds, you will get a clear list of related keywords that our tool has found for your search term or phrase.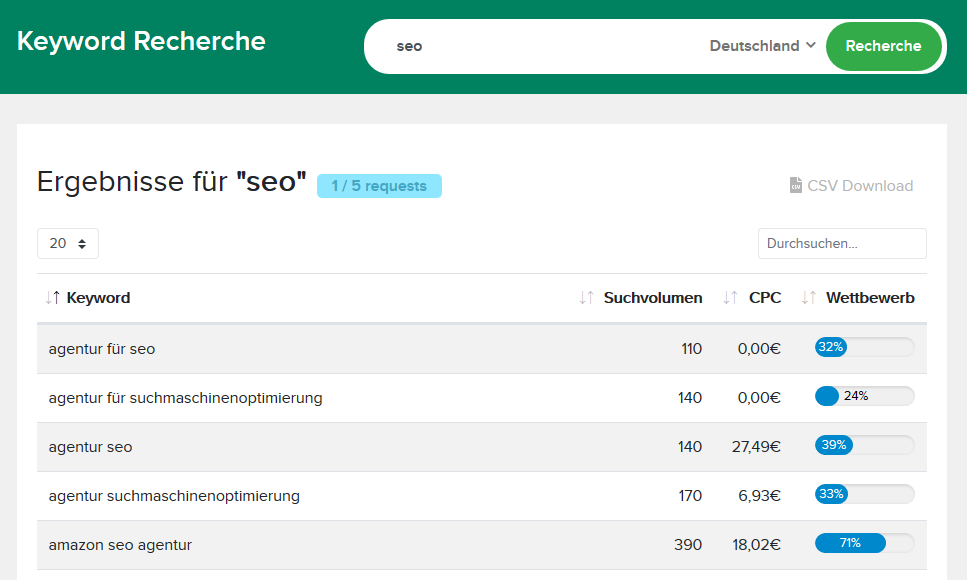 ---
Clear keyword list
To help you with your research, our tool also provides you with the search volume, CPC (Cost per Click on Google Ads) and competition of each keyword. This way, you can decide which keywords are actually important for you and have the greatest potential for your SEO. An example:
Select your keyword

Enter the search term you want to rank for, e.g. "keyword research".

Analysis starts

The tool analyzes 100 related keywords that are relevant in this context.

Compare search volume

The results are already sorted by search volume so that the most important keywords will be right at the top.

Select keywords

You can now select the keywords that are relevant for you and include them in your text.

Compare CPCs

If you want to start a Google Ads campaign, the CPC indicates the click prices you can expect.

Evaluate keyword competition

The bar at the right shows how strong the competition for each keyword is. The higher the competition, the harder it will be to rank for this keyword on Google.
How to find the right keyword?
Finding the right keyword to achieve good Google rankings and increase your search traffic is not easy and requires an analytical process. Even if your website ranks high for a specific keyword in Google's search results, it doesn't mean that this keyword will bring success. Does the keyword have a high search volume? Which topics could also be interesting? The following tips for your keyword research will help you find such related terms.

Google Suggest
While you are typing in your keyword, Google will suggest further, complementary terms (this is called "Google Suggest"). You can use these keywords for a deeper, more accurate search.

Related searches
Once you have submitted your search query, scroll down to the bottom of the first search result page. There you will find other search queries that are related to your search term. These terms and word groups can also be an important source for research.

Compare keywords
You can now compare the terms from Google Suggest with the related search queries. Consider including terms in your text, that appear in both places as these seem to be highly relevant for users.

Refine your research
Use the terms suggested by Google to refine your keyword research with this tool. This way, you will get even more terms that you can use to create and optimize your content.
What to bear in mind when doing your research
When creating your content, you should not include too many of the terms from your keyword research. Both Google and our free keyword tool only give you suggestions that are important but not mandatory. Always write your text in a way that makes it readable and interesting for users. Through various updates in the past, Google is now able to detect overoptimized SEO texts that don't provide real value to users. Therefore, you should always ask yourself what your users are actually interested in when you're creating content for them. Combining this with sound keyword research will help you create content that is both valuable to users and optimized for search engines.
Interesting links on the subject of keyword research